Please, switch back to Canadian dollars before checkout
Wings Organizer Revision 2 compatible with Wingspan and expansions
Brand:
Gaming Trunk
Product Code:
ORG-WGS-02
Availability:
In Stock
$41.95 CAD

Wings organizer is compatible with Wingspan and its expansions.
The organizer fits:
 Wingspan base game; 
 Wingspan: European expansion; 
 Wingspan: Oceania expansion; (only one set of player boards fit to the box).
 Dice tower replacement. Chickadee Dice Tower available here; 
 Action markers replacement. 3D printed birdhouse action markers available here. 
It includes 5 trays:
The Card holder stores bird cards and two sets of the custom dice. This card tray supports cards with sleeves up to 100 microns for both the base game and the expansion. It can be easily pulled out of the box and placed onto the table.
Two tokens trays ensure that players on both sides of the table can easily reach the food and egg tokens. The trays support GeekUp Bit Set: Wingspan and Wingspan Food upgrade kit by Meeple Source. The curved tray bottom helps take the tokens out of the tray. A clear plastic lid keeps the tokens in place during transportation and storage.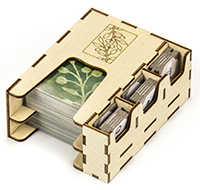 Bonus card tray fits bonus cards, Automa cards, and the goal tiles.
Action markers are stored in the Action markers tray. This tray supports our 3D printed action markers.
The organizer is available in 5 colors: Natural (Unstained), Blue, Green, Walnut, and Black.
---
Product Features:
 Supports sleeved cards up to 61x100 mm @ 100 mkm
 Box lid closes flush 
5 Removable trays: 1 Card holder, 2 Tokens tray, 1 Bonus card tray, 1 Action markers tray 
 Fast set up and tear down 
- Made of high quality 1/8" birch plywood
- The organizer weight is 600 g (1.32 pounds)
- Dimensions 283 mm x 283 mm x 72 mm (11 1/8" x 11 1/8" x 2 13/16")
---
The insert is delivered as an easy to assemble kit.
The insert assembly requires about 60 minutes. 
The insert is designed for pieces to snap into place, but due to variances in wood, glue may be necessary to secure the pieces together. We recommend wood glue or another comparable quick setting, tacky glue. Some connections might require application of reasonable force to assemble or we recommend the use of a hobby (rubber) hummer.
*********************************
PLEASE NOTE: 
- The game is not included.
WARNING: this product contains small parts and could pose a choking hazard for small children. Please use with care.
Not an Official Stonemaier Games product/project. This is a third-party accessory designed by Gaming Trunk. All trademarks and copyrights are properties of their respective owners.